Posted by Shamir Lee on 07/30 at 10:52 AM
A couple of weeks ago, I wasn't able to sleep very well because of the heat. When I woke up in the morning from what seems like a 30-minute nap, I'm soaked in sweat. When I got out of the shower and dry off with a towel, I'm still dripping. I'm not sure if it's the water or the sweat. So to get me through hot summer days, I've been listening to these songs, some new, some old, some influenced by the old. Here are my top 10 songs of July.
1)
L.A. Guns -
Over the Edge
L.A. Guns was the original Gun N' Roses. It was formed by Tracii Guns, the lead guitarist. To make a long story short, he left the group after some lineup changes and he and Axl Rose had a fight. Axl brought in Slash to form Guns N' Roses. Guns went on to make a new band with lead singer Phil Lewis, naming the band L.A. Guns. Unfortunately, they never became as successful as GNR, but they definitely embodied the sleaze attitude. "Over the Edge," from the 1991 Hollywood Vampires, is no exception to that and it's one of my favorite songs, if not my favorite song, by the band. It starts off with traditional Japanese music and transitions to the signature L.A. Guns sound of raspy vocals and layered guitars. It has a hint of Western influence, which makes it perfect for summer.
I don't know who this song is by or where it's from, but I discovered it a few years ago and have never forgotten it. I think of Blade Runner and The Terminator whenever I hear it, which somehow makes me think of summer (maybe because of the images used in the video). It's very minimalistic, with no vocals. I wish I could give credit to the composer because this is beautiful.
I feel like darkwave is meant to be heard during the summer. It might be because that's when I first discovered it. I don't know much about Electronic Suicide, and this is the only song I know by the German group, but all I need to know is this song. The pounding beats and high-pitched keyboard melody repeats throughout the whole track, but somehow it sounds new every time. I can't help but think of The Cabinet of Dr. Caligari when I hear this, does anyone else feel that way?
Here's another darkwave song. The Frozen Autumn are an Italian darkwave band inspired by Clan of Xymox, which formed in 1993, according to
Wikipedia
. The airy, ethereal instrumentals actually remind me of the winter months, specifically when listening to the lyrics. They seem to be discussing a cold heart, not easily penetrated, but longing to be. I could be wrong, though. The lyrics are hard to decipher.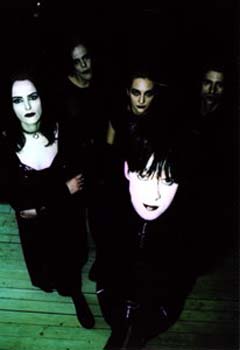 I mentioned this band in the previous song. They've had a strong presence in the goth/darkwave scene. I love the echoey vocals and the repetition of "there's something wrong with you," during the chorus. The dark atmosphere created with the instrumentals is well-done, reminding me of a rainy summer night. Even if this song was solely instrumentals, I would still enjoy listening to it.
I made
a post previously
about Katy B's release of the official single of "What Love is Made of." I really like that one, but I might like this one even more, and it's been released just in time for romantic summer nights. Katy B always delivers amazing acoustic performances. I think that's her strength, showcasing her smooth and flawless vocals. Paired with the piano, this song has a more romantic feel. I kind of wish this was the official single, but of course it might not sell as much or get as much attention (unfortunately).
Myriam Fares is a popular Lebanese singer. She has been accused of copying Beyonce and Shakira in recent years, however her older work, including this song, had a signature sound to it. This song starts full of romance and smooth Arabic sounds, which quickly transitions to a more upbeat, dance-y track for the chorus. Halfway through, it returns to the romantic instrumentals. It even has a little bit of latin flavor, which is usually paired with summer months outside of latin countries. I kind of wish Myriam would go back to making music like this.
Early 90s Japanese rock was very creative, and Luna Sea (a play on the word 'lunacy,' which was the original name of this band) was at the forefront of this creativity. Discovered by X Japan's hide, the band quickly rose to the top of the charts. "Rosier" was their most notable hit. The emotional vocals and catchy guitar solos make this song stand out. They had a lighter sound as opposed to bands like
Buck-Tick
, a sound that fits well with summer.
9) Siouxsie and the Banshees -
Peek-A-Boo
I first heard this song in the 2001 film
Jeepers Creepers
, but it was the
ECHO 3 version
(which I also like). The layering of the sounds, the reversed instrumentals, and the playful lyrics are fun to listen and dance to, even in the heat. It's very unique from Siouxsie and the Banshees' other work, which has been more popular in the goth scene, but the somewhat dark lyrical content still retains the band's attitude of darkness and mystery.
10)
Sky Ferreira - Everything Is Embarrassing
I can't get enough of this 80s-inspired track. It's reminiscent of early Madonna. The reverb on the keyboards, the echoey drum beats, and the airy, layered vocals all come together delivering a powerful summer hit, despite it being released back in October. Hints of bass guitar can be heard throughout the chorus. The lyrics speak of someone trying hard in a relationship, while the other person doesn't seem to be trying at all. The 80s seem to be making a comeback. But I guess we've been saying that for a few years now.
Author: Shamir Lee
Bio: Shamir Lee is a senior majoring in Advertising. She's a writer for Penn State's CRITIQUE, a student-run business magazine. Additionally, she has created ads and flyers for One Heart, an organization fighting against child sexual abuse. She's interested in looking at cats, doing ballet, exercising, and ending animal cruelty. In her free time, she enjoys watching horror movies, some of her favorites being Satoshi Kon's Perfect Blue and the 2003 remake of The Texas Chainsaw Massacre ("sorry, I just really like the cinematography"). Music is a big part of her life, as she plays piano, a little bit of guitar, and used to play saxophone. Some of her favorite musicians are Jason Becker, BUCK-TICK, Megadeth, Aivi Tran, Missing Persons, Nina Hagen, Prince, and Koji Kondo.